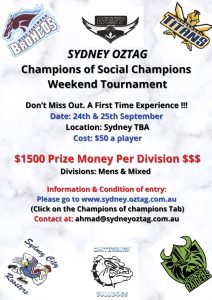 It is finally happening, A new experience. Champions of Champions Weekend Gala Day  this year. Do not miss out.
Many have called for this entertaining idea and we have responded, it is now happening with a first time experience for a weekend gala day in September on the 24th & 25th.
Conditions of Entry:
Only Division 1 Social Grand Finalist from within the Sydney Oztag Association Competitions for the past two seasons.
Teams who participate will have to have the same registered team from there Social Competition (With the exception of 2 players from within the same social competition).
will have the chance to Represent & see which Competition is the Strongest. 
Please read the following information to ensure you follow the correct procedure in entering a team
Spots will be limited per division

When nominating your team, please select the competition option of where your players are from as that is the area you will represent

Location is yet to be determined as this is determined based on how many teams enter in. Multiple locations are a possibility with finals to be played at one venue.

Cut off for entering a team in will be end of August.

Payments will need to be completed by end of August. Rego is $50 per player

Minimum of 10 players to register a team, maximum of 16 players registered. Forms will be sent out after the cut off period.
There will be a prize pool of $1500 for each division provided 6 or more teams enter in. If less teams enter in for that division then it will be amended & this will be reflected when nominations close.

A chance to win $1500 prize money.
For more information please contact Ahmad at ahmad@sydneyoztag.com.au